iGlow Skincare kit #1
Regular price

€145.00

Sale price

€101.50
Introducing the iGlow Skincare Kit: Illuminate Your Natural Beauty!
Are you ready to experience a radiant transformation in your skincare routine? Look no further than the iGlow Skincare Kit, your ultimate companion on the journey to glowing, healthy, and rejuvenated skin. Unveil the beauty that lies within with this exceptional skincare collection designed to enhance your natural radiance.
What's Inside the iGlow Skincare Kit:
iGlow Papaya Cleansing Balm: Start your skincare ritual with the luxurious iGlow Papaya Cleansing Balm, specially formulated to gently remove impurities, makeup, and excess oils. Infused with nourishing botanical extracts, it leaves your skin feeling refreshed and ready for the next steps.

iGlow Firming and Smoothing Face Serum: Achieve a lit-from-within glow with our iGlow Firming and Smoothing Face Serum. Packed with potent antioxidants and hydrating ingredients, this serum helps diminish the appearance of fine lines and wrinkles while promoting a youthful, luminous complexion.

iGlow Under-eye Patches: Say goodbye to tired, puffy eyes with our iGlow Under-eye Patches. Formulated with soothing ingredients, they reduce the appearance of dark circles and puffiness while nourishing the delicate skin around your eyes.

iGlow Tan Drops: Customize your glow with iGlow Tan Drops. These innovative drops allow you to control the level of sun-kissed radiance you desire. Mix them with your moisturizer for a natural-looking tan that enhances your complexion.
Why Choose iGlow Skincare:
Natural Ingredients: We believe in the power of nature to enhance your beauty. iGlow products are crafted with the finest natural ingredients, free from harmful chemicals, parabens, and sulfates.

Dermatologist Tested: Our skincare formulas have been rigorously tested and are suitable for all skin types, including sensitive skin.

Cruelty-Free: We are committed to cruelty-free beauty. None of our products are tested on animals.

Visible Results: Experience visible improvements in your skin's texture, tone, and overall radiance with consistent use of the iGlow Skincare Kit.
Elevate your skincare game and embrace the glow you deserve with the iGlow Skincare Kit. Discover the secret to luminous, youthful, and healthy-looking skin. Unlock your inner radiance.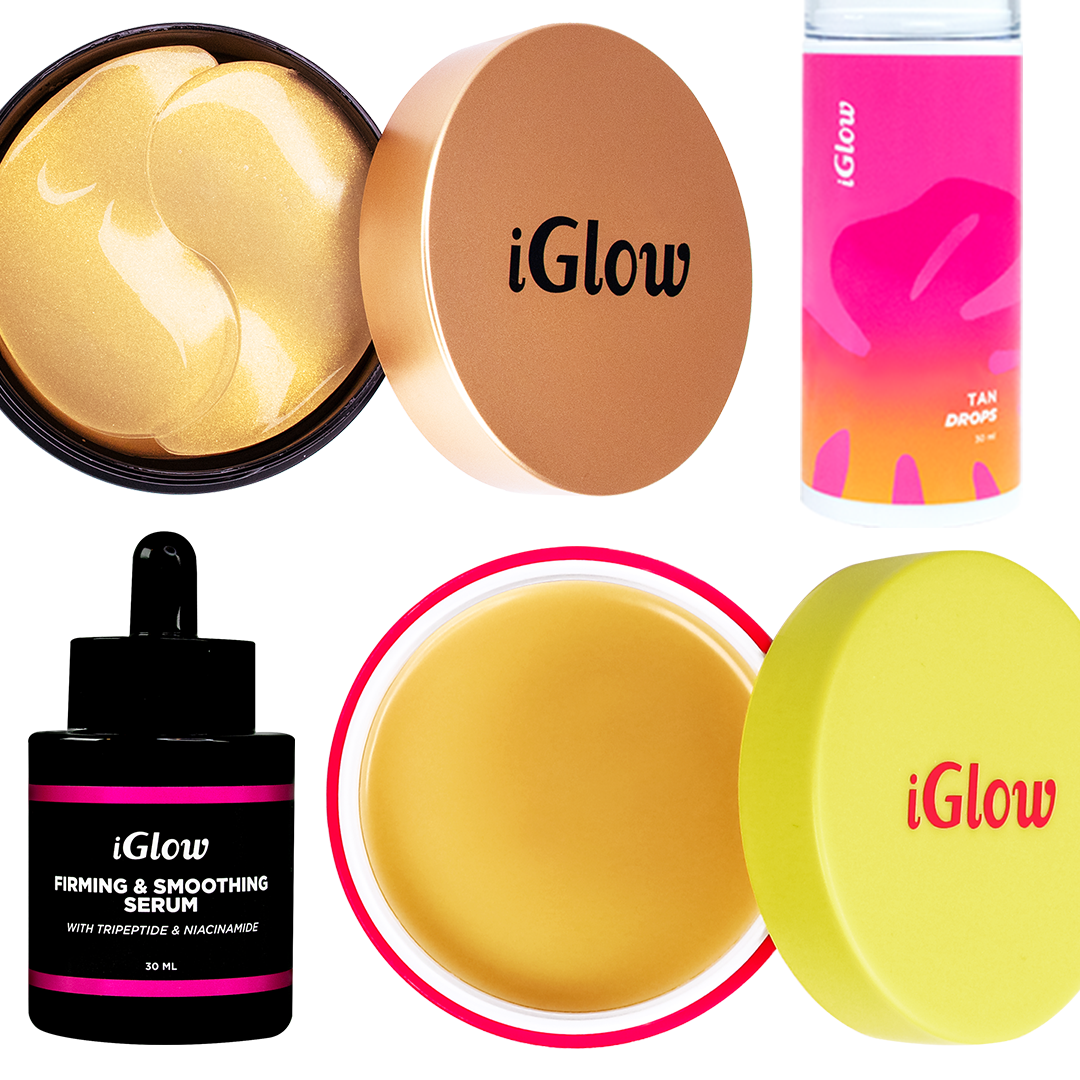 What do our customers think of this product? 🤔
Tag us on Insta and TikTok to be featured
@iglowofficial, #iglow, #myiglow, #iglowlove, #iglowlashes